BE YOUR AUTHENTIC SELF | ORGANIC | LOW SULPHITE
Get a free bottle of Rkatsiteli S 2021 upon purchase of $1000!
Our Story
The Puchang story began in 2008 when Mr. K.K. Cheung, an entrepreneur from Hong Kong, decided to dedicate his passion and effort in producing the best wines from Xinjiang, aiming to change the world's perception on winemaking in China.
Today, it is extremely rewarding to see Puchang wines obtaining awards at a number of international wine competitions whilst Xinjiang's viticulture has gained much recognition by international wine experts.
Philosophy
At Puchang, high quality wines are produced on the basis of our deepest respect to Mother Nature and local traditions, as well as our passion for green living.
Sustainable Development
We work closely with local farmers, learning their wisdom and sharing with them new knowledge on organic farming and winemaking to ensure sustainable development of the entire wine region. We work through ecological processes, using only organic, non-chemical substances to farm local grape varieties and produce premium quality wines with low level of sulphites.

Our History
First Grapevines
1975
Grapevines planted on the Estate by local winery
Establishment of Puchang Vineyard
2008
KK Cheung purchased the Estate and re-named the winery as Puchang Vineyard. The team started to re-structure the vineyard
First Vintage
2009
First vintage by Puchang Vineyard
Official Organic Vineyard
2013
After 5 years of inspection, Puchang Vineyard was accredited by ECOCERT, an inspection and certification institution for organic farming. We maintain to operate as an organic vineyard upon strict inspection and re-issuance of certification each year
International Launch
2016
Introducing Puchang wines to the international wine market

Worldwide Recognition
2017
The multiple awards received from MUNDUS vini 2017 and the title of China winery of the year from the 2017 Berlin International Wine Competition is a testimony and a hallmark year for Puchang. A worldwide recognition of our continual efforts as we strive to deliver high quality organic wines to the rest of the world.
First Organic Vineyard from Turpan
Discover Our Estate
Located in the heart of Xinjiang, near the Tian Shan Mountain, Puchang Vineyard shares the same latitude with some of the best wine-making regions in the world. Comprising of five carefully selected plots, a total of approximately 67 hectares, the vineyard has an annual production of 130,000-150,000 bottles of wines.
Turpan Climate
16-20MM
annual precipitation rate
14.4° C
average temperature
3000-3200
sunshine hours per year
270 Days
length of growing season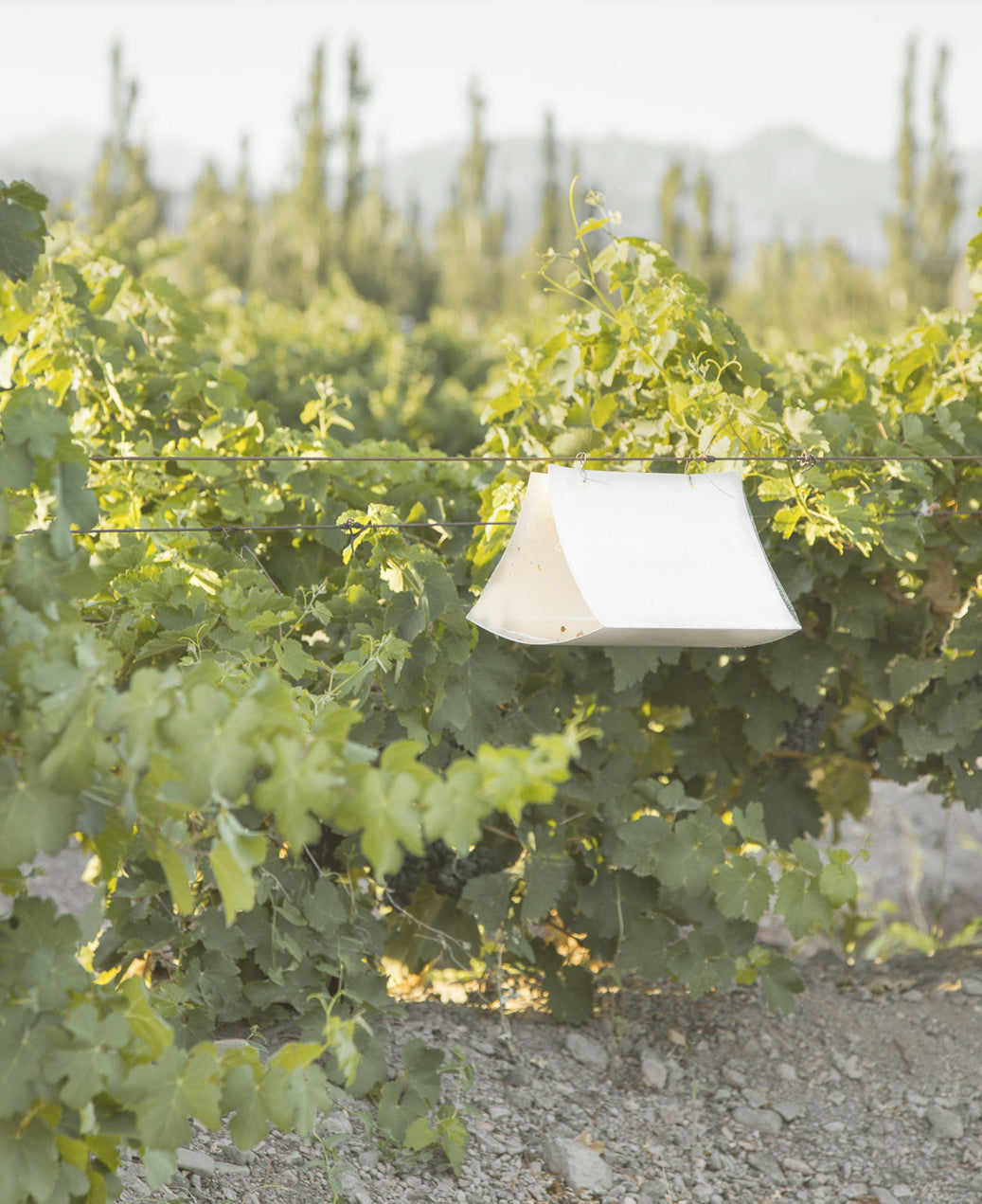 Wine-making
Organic Process
We strive to work through ecological processes, using only organic, non-chemical substances to produce premium quality wines with low level of sulphites.  Puchang vineyard is proud to have received organic certifications from ECOCERT, an independent organization that specializes in the certification of organic agricultural products since its creation in 1991. The organization approves and certifies the compliance of products, systems or services with the organic standard in more than 90 countries, setting a benchmark in organic certification worldwide.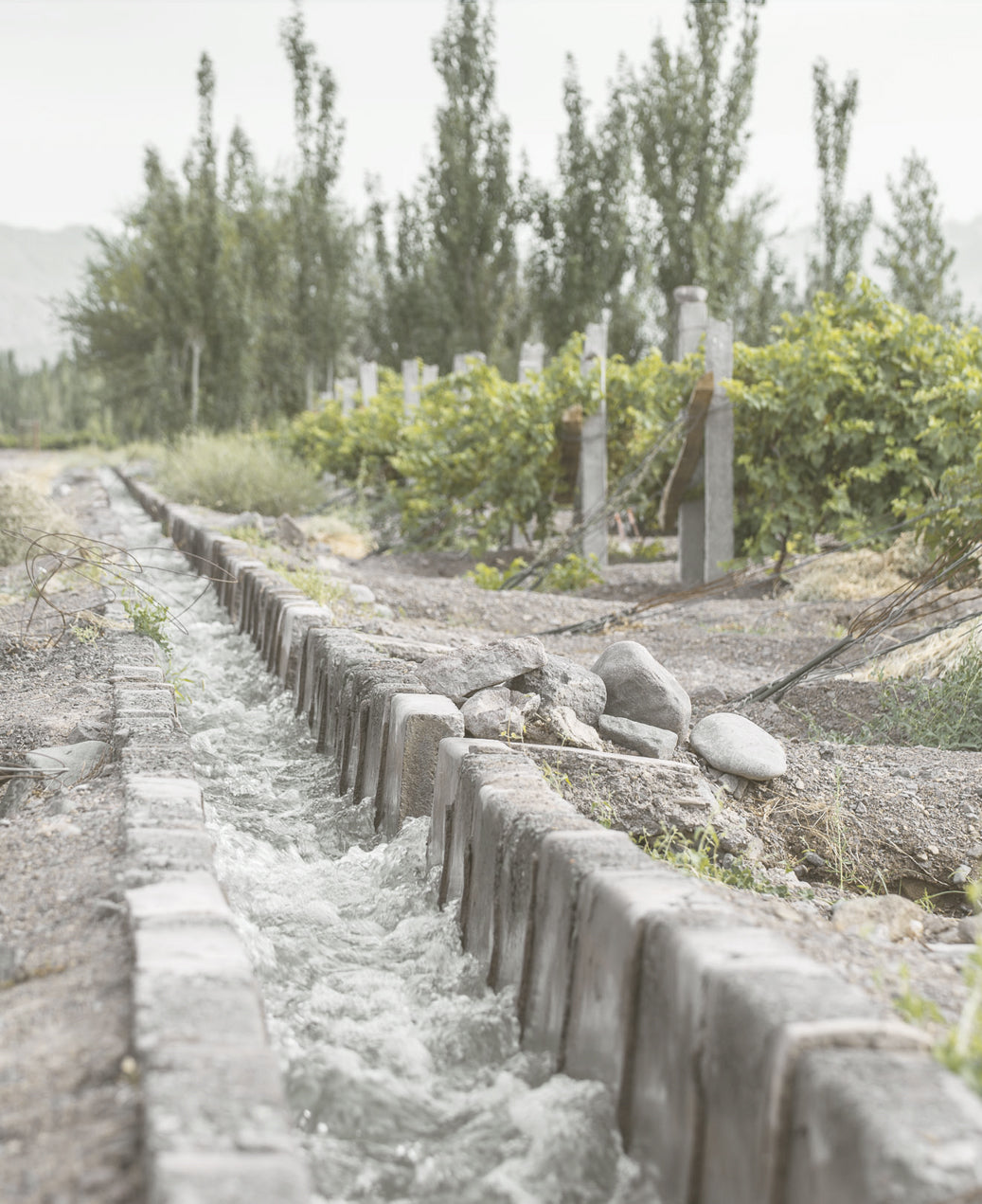 Irrigation from an Ancient Source
Water from Tian Shan Mountain
We water our grapes with melting snow from Tian Shan Mountain. Untouched by men and free from pollution, it channels through the underground Karez water system to our vineyard, keeping the water source naturally pure.
"Combining Traditional and Modern Methods"
Wine-Making
We handpick and manually sort all grapes. Our winemaking team closely monitors the yield of each plant, making sure that each plant maintains high quality of grape clusters with structural complexity and strong concentration.
To ensure optimal balance between acidity, sugar and pH value, each varietal is analyzed in a laboratory on a weekly basis once the skin turns color, then every three days from July onwards. As a result of such combined